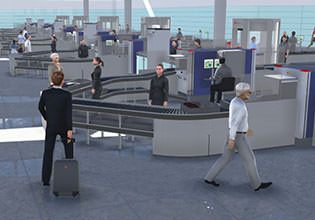 HOW O&I CAN SUPPORT YOUR… PASSENGER SECURITY SCREENING OPERATION
24th June 2021
There is regularly something changing at airport passenger security screening; new equipment, new technologies, changes to legislation and procedures. Subsequently, additional adaptations often need to be made to accommodate such change; new processes, new layouts, changing work methods and communications, or even full checkpoint redesign. At the same time, operators strive to balance meeting strict security measures with offering good customer service and short waiting times.
o&i consulting has extensive experience in advising international airport operators on their passenger screening requirements, integrating change in aviation security environments and helping clients to achieve the most effective process, flow and layout design for their security checkpoints.
With our broad knowledge of available passenger screening equipment, current and future legislation, technology requirements to meet legislative requirements, and an understanding of an airport's operational performance and service targets, o&i consulting is able to help clients deliver a passenger security checkpoint that meets all its requirements and expectations.
Here are some of the ways that we can help:
End-to-end security checkpoint change management: working with client teams to measure, design and successfully embed change including operations improvement and cost reduction solutions, and new equipment, technologies, regulations, processes and procedures.
Operations studies: ensuring clients fully understand their existing operation – unused capacity, bottlenecks, constraints etc – and how it will be impacted by change, such as new technologies, procedures and legislation.
Equipment & technology trialling: performing offline and 'live' operational trials to compare equipment types and associated processes, to identify the most appropriate solution for YOUR operation.
Analysis and modelling: providing fact-based advice on expected throughput, waiting times, congestion levels and capacity, based on live and off-line operational measurement and historical client data.
Process and layout design: enabling seamless integration of new features, our team designs security area layouts and develops end-to-end processes, with a focus on creating an efficient operation that meets service standards while fulfilling security requirements.
Live operational trials and implementation: demonstrating how our security process and layout recommendations work effectively over extended periods in live operation, measuring trial performance and working with client teams to implement operation-wide.
Procurement support: supporting the development of procurement documents and advising the client equipment procurement process.
For more information on how we can support your security checkpoint operational needs, please call David Calder on 07990 572 895 or view our credentials at https://www.oandiconsulting.com/sectors/aviation/passenger-security-screening/
Categories: Blogs, Passenger Security Screening
Tags: airport processes, airport security, aviation security, change management, Operations Improvement, passenger screening, passenger security, security checkpoint