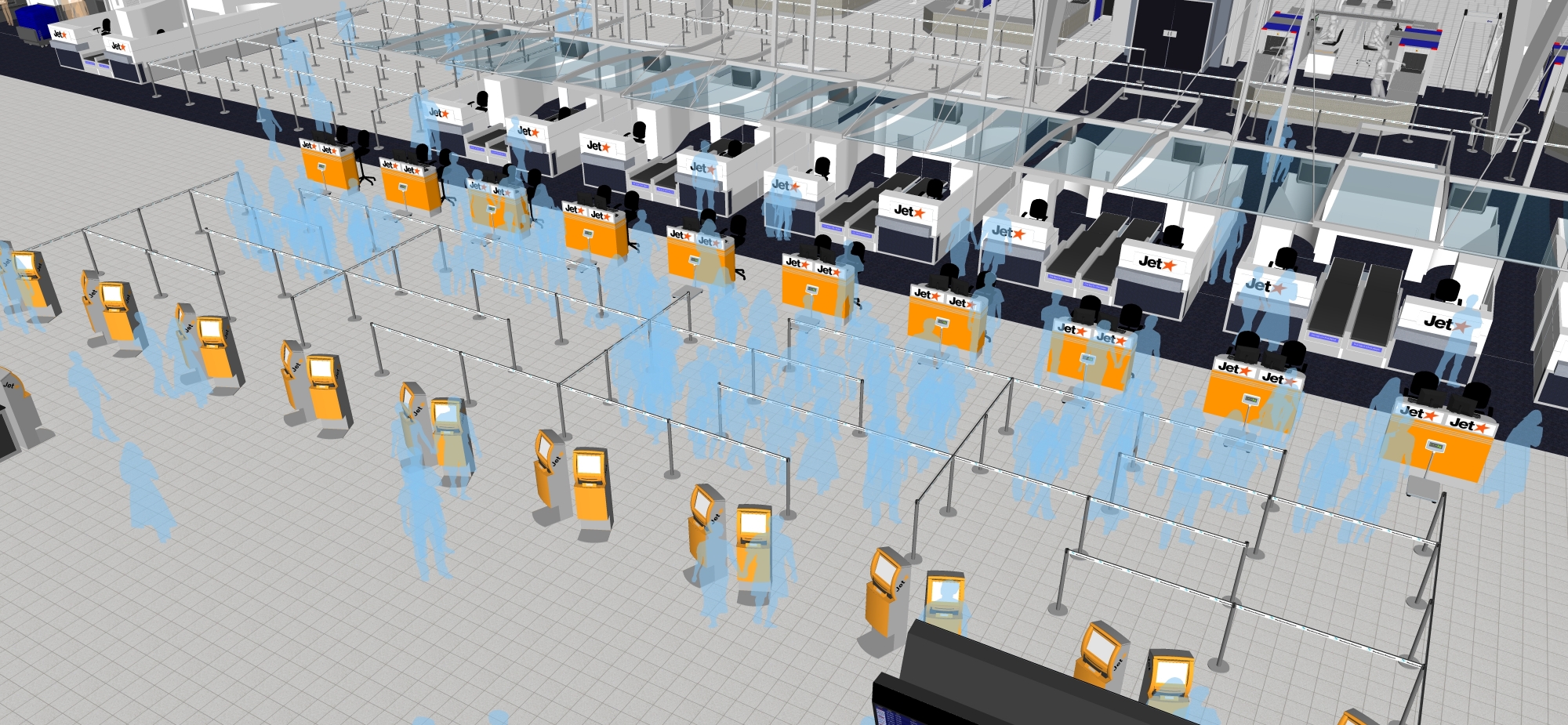 Airport queues: finding an effective solution – solving the root cause, not just reacting to the symptom
4th November 2014
At the heart of an effective solution to queuing issues is robust planning. However, no matter how well you plan, if the information going into the plan is incorrect, then the information coming out is going to be unreliable.
To get operations planning right it is important to make sure all information and data is current and any process changes have been made and measured. We'll come back to planning in our next blog once we have addressed airport processes and their role in combating queues.
Airport processes
How well do you and your employees understand the existing process? Measure and observe the operation to understand if the process is intuitive, how passengers behave and how this activity affects throughput. Why are passengers in the wrong queue? Why aren't passengers using all available facilities? Why aren't they following instructions?
Analysis of these findings will guide the action you take to improve the process and resolve existing queuing issues.
Trends
Use your research to develop a comprehensive view of passenger trends over time and how they affect end-to-end airport arrival and departure processes. For example, passengers with carry-on baggage only who check in online help to reduce demand for check-in facilities, however how does this impact passenger screening facilities and the boarding process?
Flow
Do you understand the dynamics of passenger and baggage flows through your airport? Where is the bottleneck in the process? How can you alleviate it?
Asset Utilisation
Before opening or creating new capacity, consider whether existing facilities and equipment are being utilised effectively? What changes to flow, structure or communications could be made to maximise their utilisation?
Queue structure
Is the right amount of space dedicated to queuing and within the queue is the correct volume dedicated to each product or service? Do passengers understand which facilities they should go to or the options they have? By designing the queue to prepare passengers and direct them to the correct facilities, products or services, you can minimise redundant transactions and maximise processing capacity.
Consider the benefit of and how to integrate flexible or dynamic queuing and buffering into your operation.
Customer service
Utilised effectively customer service agents can prove valuable in reducing airport queues. If they are approachable and positioned appropriately, they can play a role in:
–      guiding passengers to the relevant facilities
–      preparing passengers for the next process
–      educating passengers so that they are better informed next time
–      minimising delays, by managing tight connections or problematic flights
Customer service agents are also a valuable source of information about your airport. What are the top 5 questions your CSAs are asked? Consider working on improving these first.
Information to the passenger
Partnering with other stakeholders or provided independently by the airport, there are many advantages to providing advance information and incentives to passengers. You can reduce or spread demand by encouraging passengers to perform processes at home / on the internet, or to use alternative airport facilities on arrival.
Let passengers know when the busiest times are at check-in and passenger screening. By incentivising passengers with advance information and promotions such as vouchers, it may be possible to influence when they arrive at the airport to reduce peaks.
New services
Your research may highlight a 'problem' segment of passengers that is generating queues at your airport. This may be resolved by a new service or process; dedicated lanes at passenger security checkpoints or immigration for example.
New technologies are now available to automate most airport processes. To fully realise their benefits, it is important to consider how they are integrated as part of end-to-end processes, otherwise they may simply shift the bottleneck and relocate queues.
The last blog of this set highlights how effective planning helps operators to maximise the benefits of improved processes and services and ensure the only queues are planned queues. In the meantime, if you would like to discuss how to improve queuing issues at your airport prior to the peak festive season, please contact fionarees@oandiconsulting.com.
Categories: Blogs, Uncategorized
Tags: airport processes, airport queues, airport security, baggage reclaim, customer service, immigration, Operations Improvement, Operations planning, operations-design, queues, root cause analysis